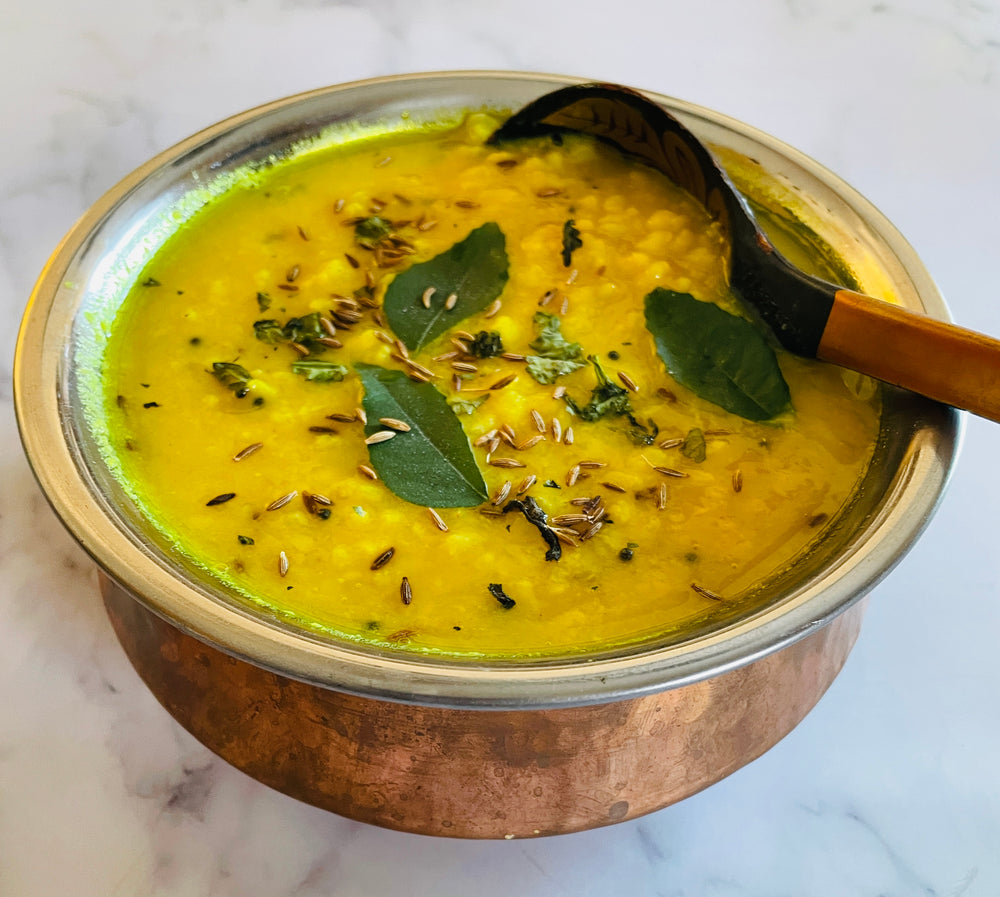 This recipe plays a key role in Ayurvedic nutritional healing, especially during illness and detoxing. This is a popular dal (yellow lentils) which is used for everyday cooking in India. It used to be my mom's go to dal for a quick meal and can be made in less than 15 minutes.
It is also a great source of proteins for vegetarians. It is healthy, low in calories and is quite easy to digest and is a go to dish when you are not feeling well.
This moong dal along with some spices and seasoning is extremely flavorful and delicious.
*Consult with Our Health Practitioner for Your Body Specific Diet Plan
| | |
| --- | --- |
| Prep Time | 5 minutes |
| Cook Time | 5 minutes |
| Total Time | 10 minutes |
| Servings | 2 |
Ingredients:
1 cup yellow mung dal

4

cups water

1 tbsp ghee 

1 tsp mustard seeds

1 tsp cumin seeds
1/2 tsp turmeric

1/2 tsp hing (asafetida)

 

2 or 3 curry leaves
Chopped cilantro
Salt to taste
1/2 a lime
Directions:
Wash the mung dal(lentils)couple of times and drain water.
Transfer the lentils into an instant pot bowl.
Add 3 cups of water and salt to taste.
Secure the lid, close the pressure valve and cook for 2 minutes at high pressure.
Naturally release the pressure.
Heat a small pan and add 1tbsp ghee.
When the ghee is hot, add cumin seeds, mustard seeds, turmeric, Asafetida (heing) and curry leaves.
When it splutters, pour this seasoning over the dal.
Now Press the settings to sauté mode in the instant pot.
Add water as necessary so that the dal is not too thick.
Add salt to taste.
Boil the dal for about 5 minutes.
Serve hot with steamed rice.