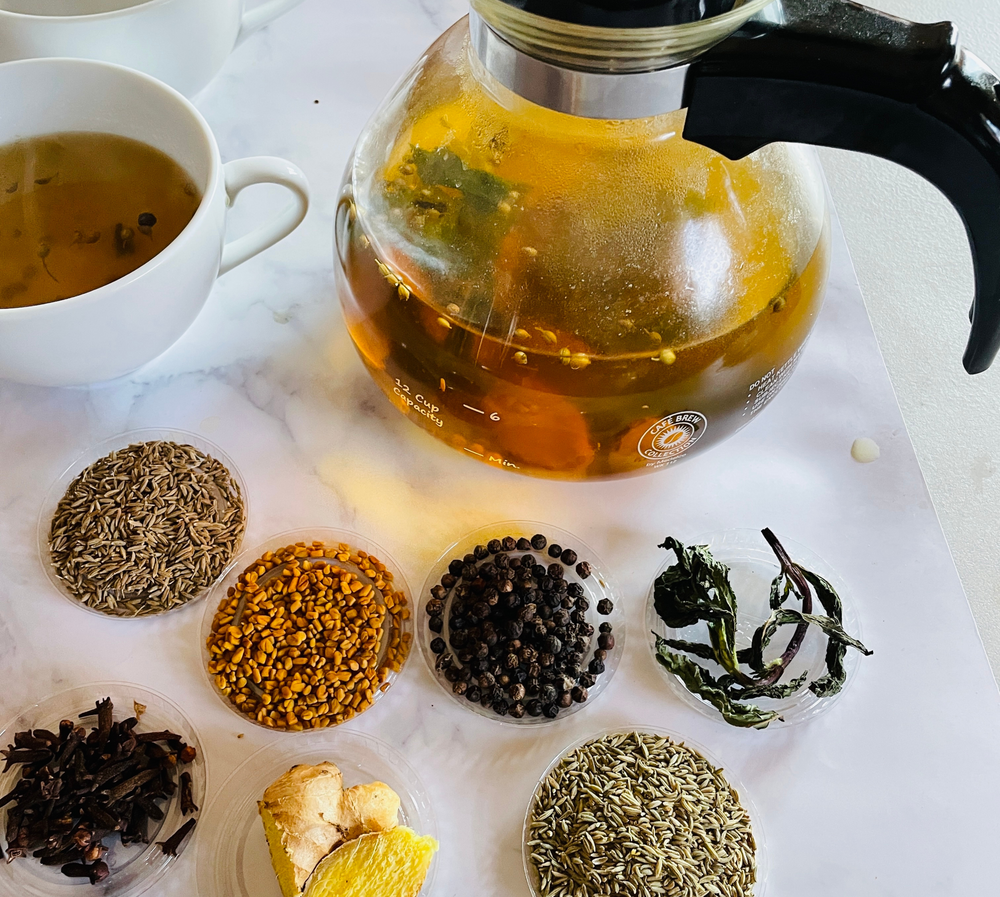 In Ayurveda, CCF means Coriander seeds, cumin seeds and fennel seeds and when you boil these seeds in water, the outcome we get is a classic "Detox Tea".
According to Ayurveda and more recent western research, "Good Digestion" and a "Healthy Gut" plays a critical role in the body's wellbeing and its optimal functioning.
Each of these seeds has its own medicinal value and taken together, this "cocktail" does wonders for your mind and body. It can also be blended with other herbs and whole spices that help flush out toxins from your body and restore your liver and digestive track. Sip this concoction all day and you will really feel the difference.
| | |
| --- | --- |
| Prep Time | 5 minutes |
| Cook Time | 5 minutes |
| Total Time | 20 minutes |
| Servings | 2 |
Ingredients:
1 Quart boiling water
3-4 pieces of ginger sliced or grated
1-2 pieces of fresh turmeric sliced
1 tsp coriander seeds

1 tsp 

cumin seeds
1 tsp aniseed (Hindi: saunf)
2 cloves
1 small stick cinnamon (optional)
2 or 3 pepper corns
A few leaves of fresh Tulsi or Basil or Mint
Directions:
Boil water in a medium pot.
Add all the above spices and boil it for 5 minutes.
Strain the spices and pour the tea into a cup and serve hot. Enjoy!
You can reuse the ingredients throughout the day. Try to drink a total of two quarts of water a day.