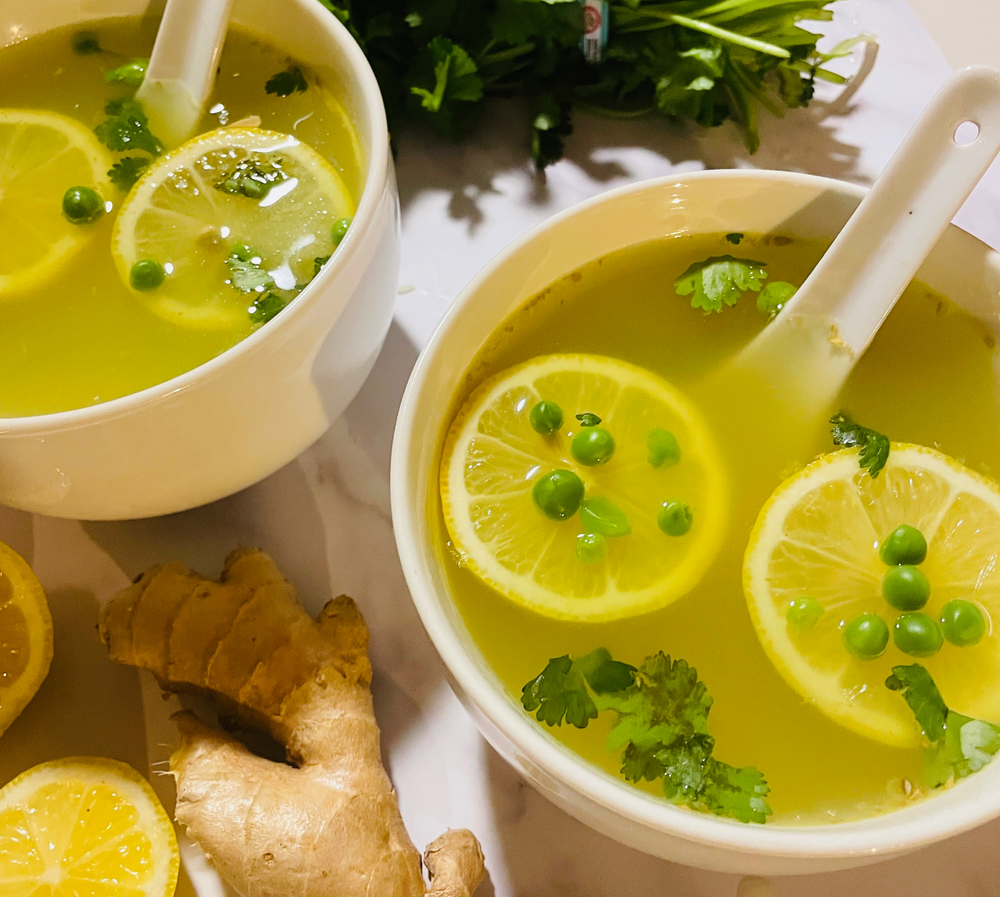 This Detox Turmeric lemon ginger Lentil Soup is a simple, healthy, hearty and a soulful meal that's great for digestion and your gut. It's really simple to make and is loaded with protein and extremely flavorful.
Split yellow lentils (yellow moong dal) is cooked until soft, blended with ginger and green chilies and then boiled in a pot with plenty of water to get a lemony light broth.
This light tasty lemony lentil soup is full of zing and gets its flavor from turmeric, ginger, lemon juice, salt and black pepper. It's a complete detox soup as it's extremely light on your stomach. Really comforting to eat during these cold days. Serve this delicious soup with boiled peas or corn.
| | |
| --- | --- |
| Prep Time | 10 minutes |
| Cook Time | 10 minutes |
| Total Time | 20 minutes |
| Servings | 2 |
Ingredients
1/2 cup boiled moong dal (split yellow lentils)
A small piece of ginger
2 tbsp chopped lemon rind
1 green chili
1 tbsp lemon juice
4 -5 cups water
1 tsp black pepper
Salt to taste
1/2 cup frozen peas
Directions
Wash the dal couple of times.
Add the washed dal and 2 cups of water into an instant pot.
Close the lid with vent in sealing position.
Put the instant pot setting to pressure cook mode at high pressure for 2 minutes.
After the instant pot beeps and it comes to OFF setting, let the pressure release naturally.
Open the lid and let the lentils cool down.
Once the lentils are cold, add chopped ginger, chopped lemon rind and 1 cup of water and blend it until smooth.
Now, Add the blended lentils into a cooking pot.
Add 4-5 cups water and bring it to boil.
Add salt and pepper.
Add lemon juice.
Make sure this soup is really liquid.
Boil 1/2 cup of frozen peas in the microwave.
Garnish the soup with chopped cilantro.
Garnish with boiled peas.