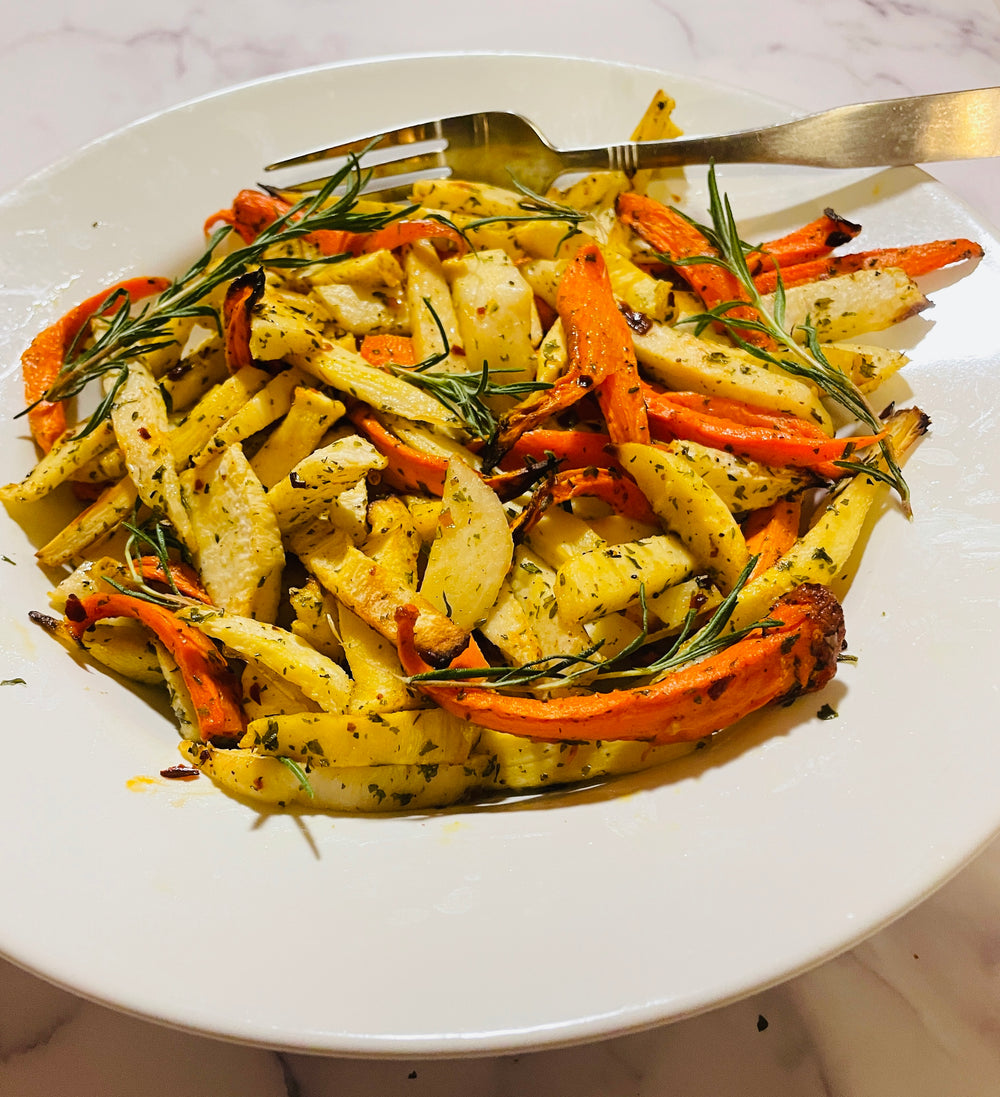 Turnips, parsnips and carrots combined with garlic, herbs and rosemary makes this dish extremely delicious and carb friendly. These root vegetables add color, perfect texture and tons of vibrant flavor and makes a great side dish. 
Traditionally, roasting these veggies in the oven takes about 30 minutes but with the air fryer, you can cook them in literally 10 to 15 minutes. Also, cooking in air fryer takes very little oil, giving you a result similar to roasting. The vegetables turn out tender in the inside, crispy in the outside and is packed with flavor. Trust me its super quick, super healthy and super delicious at the same time.
| | |
| --- | --- |
| Prep Time | 5 minutes |
| Cook Time | 15 minutes |
| Total Time | 20 minutes |
| Servings | 2 |
Ingredients
1 round large turni

p

 

1 long parsnip

 

3

 medium long carrot

 

1 tbsp 

olive oil

 

1/2 

tsp minced garlic

 

1 tsp dried parsley

 

1 

tsp red crushed pepper or paprika

 

1/2 

tsp lemon

 pepper

 

3 small sprigs fresh rosemary

 

S

alt

 to taste

 
Directions
Heat the air fryer to 350°F. 

 

Peel the parsnips and cut them into long thin sticks

 

Peel the turnips and cut them into thin strips 

 

Peel the carrots and cut them into long strips too.

 

Now combine the vegetables into a large bowl.

 

Drizzle olive oil

 about 1 tb

 

Toss in the

 minced garlic,

 

dried parsley, crushed red pepper, lemon pepper, paprika and salt to taste.

 

Mix all the herbs together

 to coat the vegetables evenl

y.

 

Place the vegetables in one single layer in the air fryer basket.

 

Roast

 the vegetables in the air fryer for about 15 minutes till the root vegetables are tender and golden brown.

 

Remove it and garnish with few sprigs of rosemary.

 

Serve hot

.