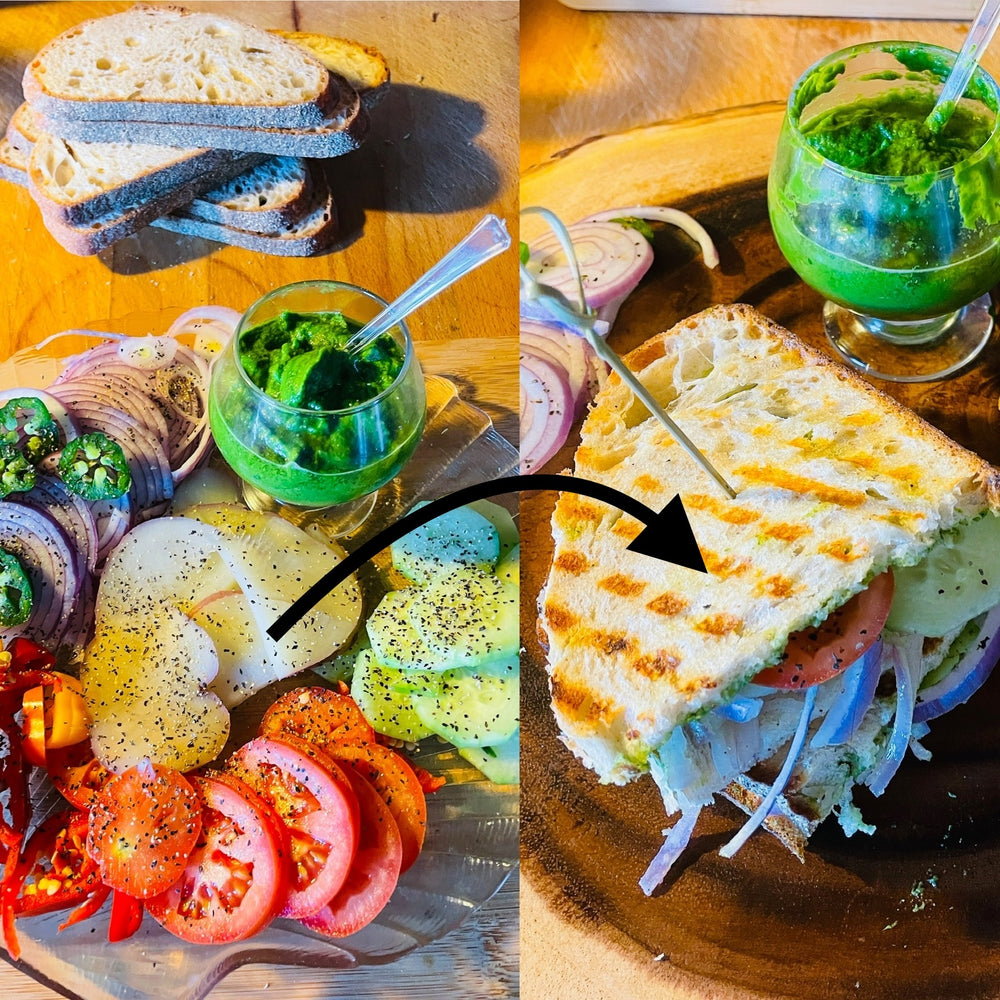 A grilled cilantro chutney sandwich in India is the equivalent of the American panini with pesto. Green chutney is a condiment very much like a pesto but made with cilantro (coriander leaves) or mint. There are a lot of different versions of green chutney and almost every house makes it differently. 
If you already have green chutney in your refrigerator, it hardly takes any time to make this sandwich. It's super-fast and easy. Chutney Sandwiches (chutney +bread) can be made in so many different ways and can be served hot or cold, but I personally prefer my sandwiches grilled and Sourdough bread is perfect for it. 
The Bombay grilled sandwich is a delicious version with a wide variety of vegetables which enhances flavor. Often in the mix of vegetables you'll see a spread of green chutney, butter and then layered with thinly sliced potatoes, cucumber, tomatoes, onions, topped with grated cheese and grilled to crispy perfection in a panini maker. 
Perfect for a quick lunch or a snack!! 
| | |
| --- | --- |
| Prep Time | 10 minutes |
| Cook Time | 10 minutes |
| Total Time | 20 minutes |
| Servings | 4 |
Ingredients
8

 slices Sourdough bread 

 

2 medium tomatoes

 sliced

 

1 small onion sliced

 

1 small cucumber sliced

 

2 medium Potatoes (

boiled and sliced)

 

1 jalapeño

 sliced

 

Grated cheese (optional)

 if you aren't vegan

 

Salt and pepper to taste

 

2 tsp chat masala

 
Directions
Slice all the above vegetables and keep it aside.

 

Start with 2 slices of s

ourdough bread

 and spread a layer 

of vegan

 

butter on

 both sides of each slice.

 

Generously spread the green chutney on one side of each slice.

 

L

ayer with sliced potatoes,

 sliced tomatoes, cucumbers, onions.

 Add 

s

alt, 

pepper and chat masala. Top it up with vegan grated cheese (optional) and

 

close the

 top with the second slice of bread

.

 

Toast in Panini 

maker

 until the sandwich is golden brown an

d 

grilled.

 Cut and serve 

with ketchup

 

or

 extra chutney

.