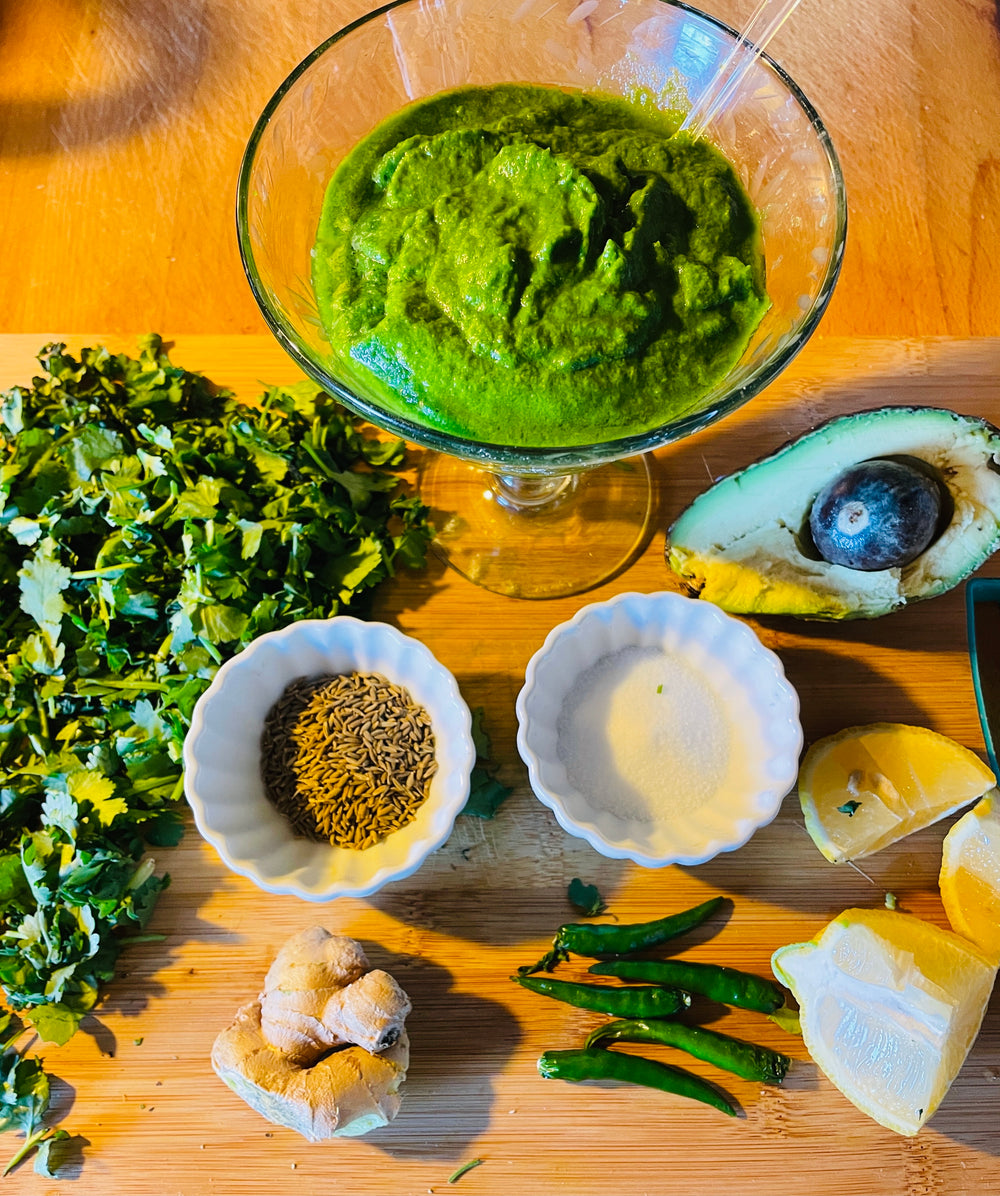 Green chutney is a flavorful condiment made with the star ingredients like Cilantro or/and Mint along with green chili, ginger, garlic and some spices.   
This chutney is spicy and tangy at the same time and elevates the taste & flavor of any snacks like Samosas, chats, sandwiches, wraps, burgers etc. to the next level. 
There are a lot of different variations of green chutney and almost every house makes it differently. It's yummy and a great condiment to have in your fridge all the time. I try to make it little different each time as I get bored with the same recipe.   
So, this time, I thought of adding some Avocados 🥑 🥑 in my chutney and trust me it was so amazingly delicious. Cannot believe that these little things make me so excited. 😁😁  
My inspired version comes together in just 10 minutes with 8 ingredients
| | |
| --- | --- |
| Prep Time | 5 minutes |
| Cook Time | 10 minutes |
| Total Time | 15 minutes |
| Servings | One small mason jar  |

Ingredients
2 bunches Cilantro 

 

 

1/2 peeled avocado 

🥑

 

 

3 Green Chilies

 

 

A small piece of Ginger

 

 

1tsp Cumin seeds

 

 

1tsp lemon juice

 

 

1/2 tsp chat masala (optional) 

 

 

Salt to taste

 

 
Directions
Wash the cilantro and chop them coarsely.

 

Peel the avocado and scoop it.

 

Place the cilantro and avocado in the blender

 

Grind it along with green chilies, ginger, cumin seeds, lemon juice

,

 

chaat

 masala and kosher salt.

 

Grind all the above ingredients into a smooth paste.