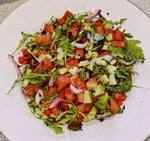 Summer is when I usually make different types of watermelon 🍉 salad as it goes extremely well with barbecue. Always been my favorite salad as it's so refreshing and so easy to make. This time I decided to add some arugula and sweet peppers simply because I had some lying in the refrigerator. It turned out delicious and we loved it. The sweetness of the watermelon melon provides a good contrast to the mild spice of the sweet peppers. The red onions and cucumbers lend a traditional touch. The herbs add to the final flavors.  In addition to the health aspect, adding arugula made the salad look so colorful. Loved it. Prep Time 15 minutes Total Time...
---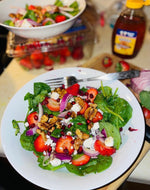 Fresh Strawberry Spinach Salad with balsamic Vinaigrette is one of my all-time favorite salads. Not only is this salad healthy, but it's also absolutely delicious and easy to make. I have made this salad few times and its always a big hit in our house. The combination of the fresh baby spinach, crunchy toasted walnuts combined with the sweet strawberries and the creamy feta is something else. And of course, the sweet pomegranate seeds give a vibrant color to the salad.   Trust me, the flavor of the balsamic poppy seeds  dressing along with the sweetness of pomegranate is too good. Prep Time 10 minutes Total Time 10 minutes Servings 2   Ingredients for Salad 2 cups baby spinach   1 cup strawberry sliced  1/2 cup...
---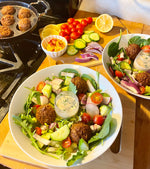 Falafel salad bowl, a part of Mediterranean cuisine is made with crispy falafels, tons of fresh veggies, and a drizzle of Garlicky Lemon Tahini Dressing. It's a' complete meal in itself.  Falafels are made with ground chickpeas, onions, herbs, spices, and is usually deep fried. I am sharing this recipe of Falafel which is Air Fried. Trust me, you cannot make the difference. Absolutely healthy and delicious.  A falafel usually comes in a pita but then I realized that we don't need to consume extra carbs of a Pita bread. These falafels are so delicious on their own or arranged on top of the lettuce along with tomatoes, onions, cucumber and fresh hummus on the...