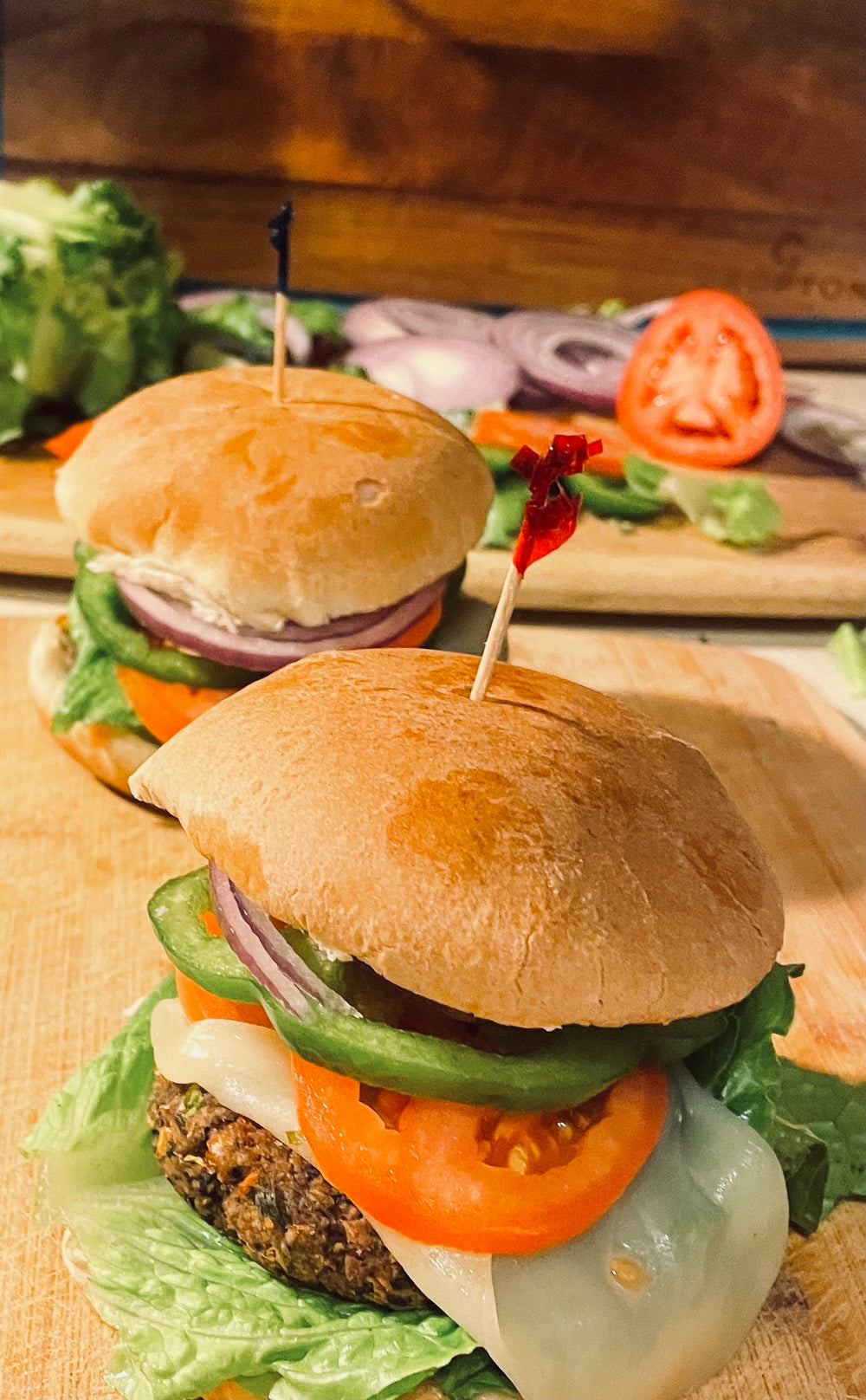 Veggie burgers are easy enough to buy at the supermarket, but I personally don't prefer the store-bought ones as it contains a lot of preservatives.
Also, when you prepare these black bean burgers yourself, you can create your own ingredients, combinations and flavors. The store-bought ones can be quite bland so you can really enhance the taste and flavor by adding your own spices.
Serve these patties on a bun with your favorite burger toppings and condiments. This Spicy Vegan Black Bean Burger is delicious and mouthwatering, packed with secretly healthy ingredients like quaker oats and peanut powder and spiced with onion, garlic, cumin and chili powder.
Also, you don't really need much oil or butter to cook them -- in fact, coating your pan with a quick spray of avocado oil is more than enough. Trust me, these black bean burgers are hard to resist with a melty layer of vegan pepper jack cheese and drizzle with jalapeno Mayo (vegan version).
So definitely, give it a try.
| | |
| --- | --- |
| Prep Time | 10 minutes |
| Cook Time | 15 minutes |
| Total Time | 25 minutes |
| Servings | 4 |
Ingredients for 
Black Beans and Veggie Patty
1 Yellow Onion

 

small piece of ginger

 

3 to 4 pods of garlic

 

2 Jalapeños

 

1/4 cup scallions

 

1/4 cup cilantro

 

1/4

 cup parsley

1/4 cup grated carrot

 

1/2 cup bell pepper (green & red)

 

1/3 cup chopped yellow squash

 

1 can of black beans (drained and rinsed)

 

1/2 cup boiled corn

 

1/2 cup quick quaker oats

1/4 cup peanut powder

1/2 cup breadcrumbs 

 

2 tbsps. cumin powder

 

1 tsp red chili powder

 

Salt and pepper to taste

 

1/2 tsp sugar

 

2 tbsp lemon juice

 

2 tbsp oil. 

Avocado oil

 

8 slices of burger buns (slider buns)
Ingredients for 

Spicy Mayo Dressing
2 Tbsps vegan mayo
1 tsp avocado oil
1 tbsp lemon juice
2 tbsps. jalapeno chopped fine
1 tsp fresh garlic minced
1/2 tsp mustard powder
1/2 tsp kosher salt
1/2 tsp black pepper
1/4 tsp red crushed pepper
Directions for Black Bean and Veggie Patty
Gather all the above ingredients in the food processor and blend it well. (this process makes it very easy and fast)

Set the mixture aside for 5 minutes so that the oats have a chance to absorb any excess moisture in the mixture.

When you are ready to make the burgers, divide into equal portions and form into patties. 

Press the mixture firmly together so that it does not fall apart.

Heat a skillet over medium heat and spray avocado oil on it.

Carefully place all the patties on the hot skillet

Cook until crispy, about 4-5 minutes.
Carefully flip the patties and cook an additional 5-10 minutes until they turn golden-brown on both sides.

This might take about 15 minutes
Directions for Spicy Mayo Dressing
Combine all the above ingredients of the Mayo in a bowl
Whip it up
Serving Suggestion
Slice the buns to 2 parts
Spray avocado oil or vegan butter and toast them slightly on a pan.
Remove it from the pan and spread the jalapeno mayonnaise on one side
Place the patty on top
Layer a slice of vegan pepper jack cheese.
Layer with lettuce, sliced onions, bell pepper and tomatoes
Add jalapeno slices on top
Drizzle little more jalapeno mayo dressing or mustard sauce.
Cover the bun with the second slice