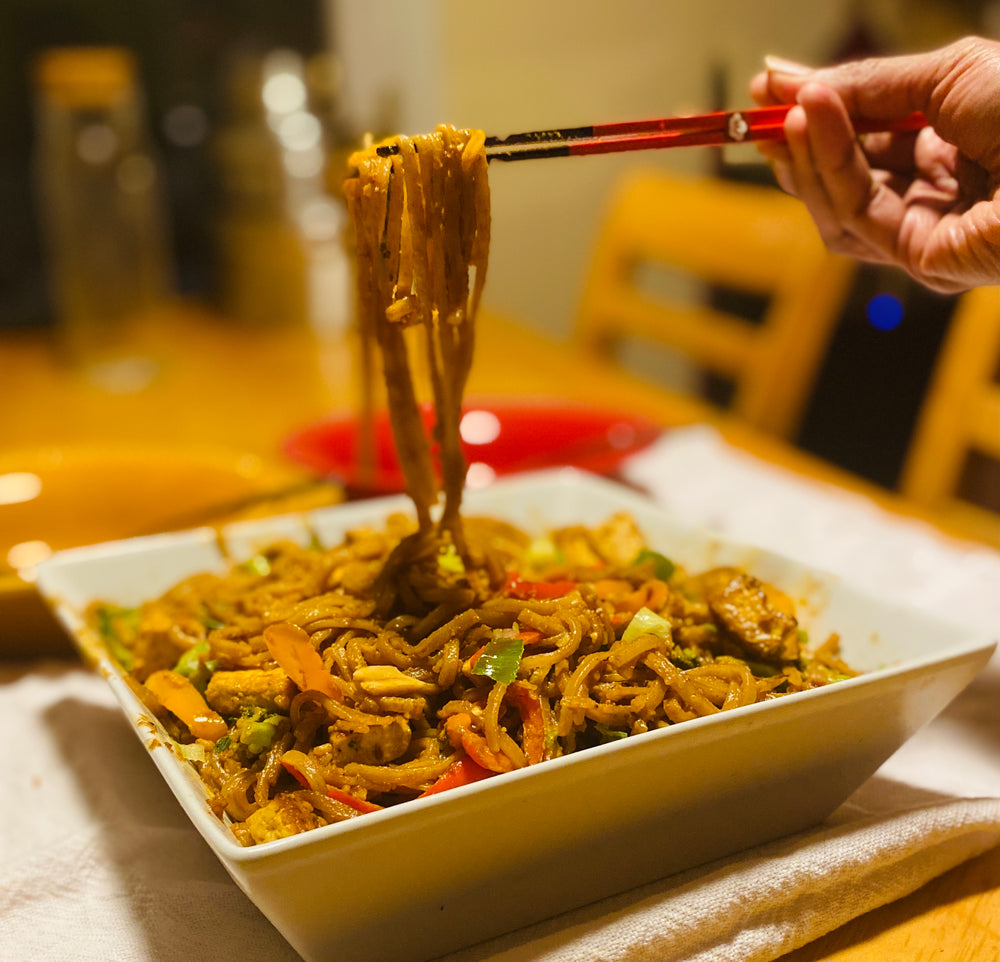 Pad Thai is a popular cuisine of Thailand. It is typically made with rice noodles and tossed in peanut oil with a few crunchy vegetables and spices. The ingredients are sautéed together in a Wok and then tossed in pad Thai sauce, which gives the dish its signature tangy salty flavor with a hint of sweetness.
Pad Thai is one of the harder Thai dishes to get right.  It requires not just a good recipe, but also a good understanding of Thai cooking techniques, spices, tastes and flavors. I have tried making it few times before but now I can say confidently that I have finally learnt the technique.  I am sure I will keep improvising until perfect. 
Sharing this quick and amazing recipe with you. I am sure you all will love it.
Ingredients 
for 
Sauce for Pad Thai
1/2 cup soy sauce (low sodium organic)

 

 

1/4 brown sugar 

 

 

3 tbsp peanut butter 

 

 

2 tbsp Asian style orange ginger sauce

 

 

2 tbsp Thai sweet chili sauce  

 

 

2 tablespoons chili garlic sauce 

 

 

1 tsp cayenne pepper

 

 

1 tsp black pepper 

 

 

1 lime (unpeeled and chopped fine) or lemongrass  

 

 

1 tbsp crushed garlic 

 

 

2 tbsp crushed ginger 

 

2 tbsp unsalted peanuts (firstly chopped)

 

 

Few scallions chopped fine (both whites and green part

 

 

3 tbsp peanut oil
Ingredients for 
Sautéing Vegetables
1/2 cup tofu cut in cubes 

 

 

1/4 cup broccoli (florets)

 

1/3cup onions or shallots sliced

 

 

1/4 cup red bell pepper, sliced 

 

1/4 cup green bell pepper, sliced 

 

 

1/4 cup Bean sprouts 

 

 

1/3 cup snap peas

 

2 tbsp grated carrots

 

12 

oz

 

Pad

 Thai noodles (thin rice noodles)
Directions for
Boiling Noodles
Boil the water in a pan

When it's boiling, add the noodles

Keep stirring in medium heat for 2 mints and then switch off the heat

 

Let the noodles soak till it becomes little soft

Make sure it still remains little crunchy and not too soft

Drain

 the water from the noodles

 and rinse under cold water. Keep it aside
Directions for 
Sauce
Combine all the ingredients of the sauce in

 a mason jar and shake it well

 

Set aside
Directions for
Pad Thai
Heat the peanut oil in a large skillet 

 

When it's hot, add chopped shallots, crushed garlic and crushed ginger. Stir for 2 minutes

Add the

 sliced onions,

 green bell pepper, 

red bell pepper

, grated carrots

 and broccoli flore

ts and stir 

until they begin to brown

lastly, add the bean sprouts

 and diced tofu

Make sure to keep the vegetables little crunchy. 

Once done,

 Keep it aside

Now, Add

 1 tbsp oil

Add

 the noodles

 to the hot pan and stir fry for a minute

Add 

the sauce

 and stir until the sauce is starting to thicken and stick to the noodles

If the sauce is too thick, add 2 tbsps. of hot water

 

Now, 

Add the vegetables to it and carefully toss to combine

Remove from heat

Stir in the

 chopped peanuts

 Add salt and pepper

Transfer

 the pad 

Thai

 to a serving bowl and garnish with the more chopped peanuts and scallions

 

A

dd more chili sauce or sriracha sauce if wanted spicy

Serve hot with lime wedges